Type-Test LV Distribution Systems up to 6300A according to IEC60439-1
Global design:
Tested by type and in compliance with IEC 60439-1
a flexible and modular system designed for maximum security and reliability
Specially designed and tested for Schneider Electric components: the world leader in protection and control, the company guarantees the highest performance and safe handling of components
We focus on safety, reliability and adaptability to meet the highest requirements 
approved IEC60439-1 compliance which guarantees a wide range of thermal ramps and short-circuits resistance
built-in arc resistor
earthquake / seismic resistance
abrasive media protection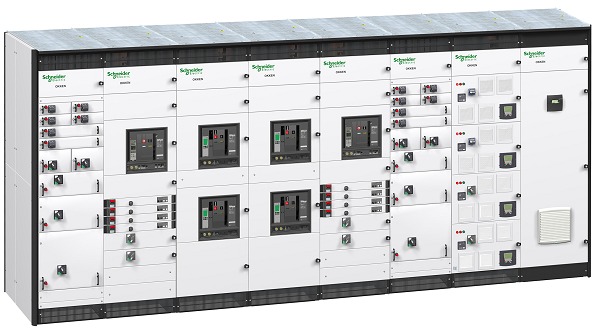 Benefits
There are both removable and fixed designs in all low-voltage applications (required for large industrial plants, large commercial buildings and infrastructures, etc.).
Electric distribution with Schneider circuit breakers: busbar rated value up to 6300A
fully centralized and modular motor control with state-of-the-art Telemecanique components: traditional and intelligent Motor control centers (MCC / iMCC), variable speed drives and road vehicles.
Power factor and harmonic compensation with Schneider capacitors: high performance, high safety and long life installation thanks to the design.
Provides close proximity to the project to be realized:
by Schneider Electric's own regional equipment factories, known for their high engineering skills
or by Schneider Electric licensed partners globally and continuously monitored by Schneider Electric
Close the customer to better understand the requirements and provide greater flexibility in project management.
Schneider-Electric's most high-quality switching panels
Equipment of low-voltage switching panels
Safety, reliability and performance have been designed and tested on the basis of the components belonging to Schneider Electric's worldwide brands (Merlin Gerin and Telemecanique) (in accordance with IEC 60439-1).
A unique repository of local differences, providing flexibility in project management, adaptation to local project applications and end-user requirements
Manufactured only by the licensed partners of Schneider Electric or Schneider Electric, considering the end user to ensure the highest quality.
A large installed base in all industrial and high power consumption sectors, in harsh environments and under heavy work conditions.
Applications
Medium and large scale industrial plants: Mining, Oil & Gas, Paper Hammer and Paper, manufacturing industry, Metal processing etc.
Medium / large scale trade and construction sites: Shopping centers, Hotels etc.
Infrastructures: Water treatment, Airport / Ports, local electricity distribution etc.